1. Make use of Humidifiers
Wooden floors tend to expand during the cold winter months and are prone to shrinkage during hot and humid weather conditions. Using humidifiers to keep the room temperature under control and moist solves the problem of excessive wood shrinkage. This is one of the most cost-efficient ways to prevent your wooden floors from further damage.
2. Avoid using Heels
Walking around wearing damaged or spiked heels on wooden floors can cause dents on them. They leave scratches and damages the clean appearance of the floor.
3. Trim nails of your pets
If you have pets at home, keep a check on their nails. Active pets or dogs belonging to larger breeds may cause dents and scratches on the floor using their nails and paws. This is one of the most common causes of wooden floor damage. Also, make sure that your pets don't urinate on the floor, as the acidic nature of urine damages the wooden finish.
4. Exposure to Sun
When exposed to direct sunlight for longer durations, Wooden floors may eventually start losing their original color. You might notice color variations between the wood that carpets have covered and the ones which are not. UV rays, Infrared Rays, and visible sunlight cause discoloration.
5. Clean Occasionally
Ensure that you deep clean your floors and apply a fresh coat of finish every 3-5 years. Apply the same existing type of finish.
6. Avoid sliding furniture
Another reason how wooden floors get scratches. Furniture, when pushed from one place to another, causes dents. Make it a practice that you lift the furniture instead of sliding them at the time of relocating. You can always ask a friend for help.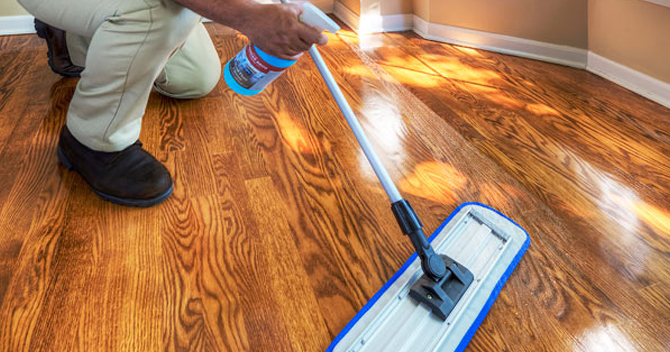 7. Check and Rectify Water Leakage
Water is the greatest enemy of wooden floors. It isn't easy to reestablish the magnificence of wooden floors spoiled by water spillages. Therefore make sure that there is no kind of water spillage anywhere at your home. Water leakage may occur due to cracks in the terrace, plumbing issues in attached bathrooms, or malfunctioning appliances such as your refrigerators or air conditioners. Make sure that you check these and ensure there are no problems.
8. Keep out Rain Debris
Wooden floors and wet footwear don't coordinate. Before entering a room with wooden floors, you must leave umbrellas, raincoats, and other dripping clothes outside to prevent water spillage. It is advisable to use water-absorbent mats so that individuals can rub off the earth and mud before they step inside.
9. Utilize Super Absorbent Mats
Rugs and carpets are bad for wood floors as they could cause adamant stains. Rather, go formats that are super spongy and fitted with strong, non-slip elastic support. These have filaments that can absorb moisture. It's better not to use cover tapes as they leave a sticky deposit on floors.
10. Utilize Stick-On Felt Protectors
Place stick-on felt defenders under the legs of furniture to avoid scraping and scratching of the floor. Supplant them regularly to keep up your hardwood floor in good condition.
11. Expel sticky materials with ice
The clean look of wooden floors is often damaged by stubborn sticky materials like chewing gum and wax. Instead of scratching them and casing dents, make use of ice and harden them first, then gently scrape them with a scraper.
12. Vacuum Cleaning
One of the best ways to keep your wooden floors clean is by regularly cleaning them using a mop or a vacuum cleaner. This helps to get rid of dirt and debris caught inside the surface.